Wining and Dining on the Wild Side
Get Involved Today: Donate or Volunteer
This article appeared in the Vail Daily newspaper on Friday, December 26, 2003.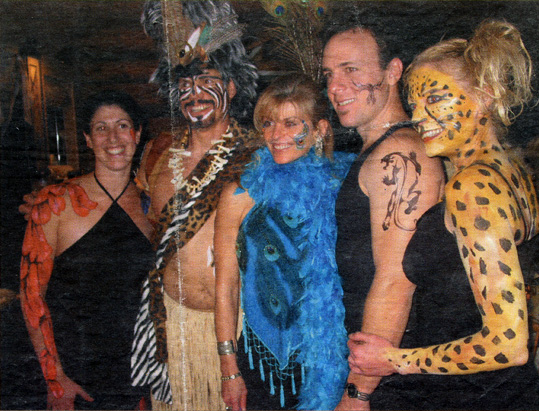 Dana Weber, in blue, event coordinator for Wine and Dine on the Wild Side at the Savory Inn, and serving staff show off their wild side.
The face paint, grass skit, outlandish headdress and infectious spirit of local chiropractor Mark Unger helped international biodiversity conservation organization Idea Wild raise more than $13,000 last Saturday night at the inaugural Wine and Dine on the West Side benefit in West Vail.
Idea Wild and international wildlife artist D. Arthur Wilson transformed West Vail's Savory Inn into a virtual showcase of exotic artifacts and paintings from around the world. Nature's Own Imagination donated an extensive collection of rockware and jewelry that the 50 guests bid on during the evening's silent auction.
Guests were also welcome to purchase any one of Wilson's paintings that hung throughout the dining room. Bob Hernreich came away with the night's grand entry -- a larger-than-life snow leopard that Wilson finished painting during dinner.
"The night was an unbelievable success," said Wally Van Sickle, Idea Wild founder and executive director. "It was great to see the people of this valley come together for an event and organization that really asks us all to look beyond ourselves and value the integrity of all life on this planet."
The funds raised at Wine and Dine will support at least 18 Idea Wild biodiversity conservation projects worldwide.
At every Idea Wild event an actual project is auctioned off to the highest bidder. Dudley Ottley, a Wine and Dine on the Wild Side attendee, bid $600 on the project and provided additional funds for the printing of the first-ever "Guide to Mammals of Colombia" in Spanish.
Alberto Cadena, a zoology professor at the NAtional University of Colombia, and his graduate students were thrilled their project was funded. Colombia is among the countries with the highest biological diversity in the world. A mammal guidebook will facilitate conservation efforts throughout the country.
Chef Juan Cruz not only provided a delicious meal but announced his project -- to write a South American cookbook and donate all proceeds to Idea Wild's conservation efforts.
Dana Weber, event coordinator, said she wanted to thank Vail residents who attended and made the event a sellout.
"We know how busy everyone is this time of year, and we appreciate the support," she said.
Learn more about Mothers for Mother Earth:
Mothers for Mother Earth, Inc.
P.O. Box 38070, Tallahassee, FL 32315
© 2011 Mothers for Mother Earth, Inc.
All rights reserved.